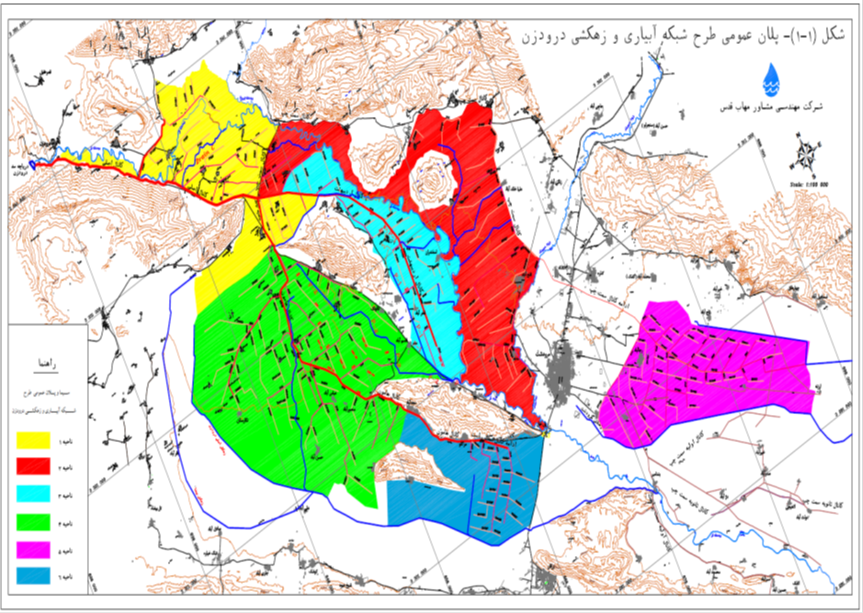 Performance Evaluation Studies of M & O, improvement and reconstruction for Management of Doroudzan Irrigation & Drainage Network
Narrative Description of Project
Doroudzan irrigation & drainage networkis located in the north of the Fars province and in among the Kor river basin. Water requirements irrigation network is supplied from Doroudzan Dam. This dam has a capacity about 960 MCM. The specifications of the Doroudzan irrigation & drainage network as follows: · Gross coverage area:76000 Ha
· Length of the Main, Primary & Secondary canals:194 Km
· Length of the treasury & on-farm canals:517 Km
· Length of the drains:691 Km
· Length of the services road:1674 Km
· The number of Intake:2897
· The number of regulation & hydraulic structures:2003
· The number of bridge & underpass:510
· Cropping pattern in the network area:Wheat, Barely, Canola, Tomato, Maize & …

The need to performance evaluation of the Doroudzan irrigation and drainage network and its establishment, renovation and improvement of structures, improve and upgrade of operational management has been raised by Fars Regional Water Company. In order to meet the needs of these studies are being carried out include the following: · Changes in the formation of the Irrigation and Drainage Network
· Changes in cropping patterns, rising of irrigated area and cultivation of high consumption crops
· The lack of available water resources for network
· Deterioration, destruction & inefficiency in the control system and flow regulation
· The problems of water transmission by traditional canals and its distribution network
· The existing problems in the water transmission and distribution to reasons such as changes in cropping patterns and increasing coverage land.
· Social conflicts in water delivery to consumers
· Deficiency of the facilities and equipment for flow measuring in the network
· The lack of procedures and guidelines for operation and maintenance in the network.

Description of actual services provided by your staff within the assignment:
According to the problems in the doroudzan irrigation & drainage network that mentioned above , actual services prvided by MGCE as follows: · To identify the existing physical structures and investigation of infrustructures in the network
· Monitoring and evaluation of the Doroudzan network performance
· Investigation of the network operation and maintenance management in the current status
· Updating for the crops water requerement by using new methods & the new proposed cropping patterns
· Planning for irrigation in the network
· Hydraulic calculations for proper utilization of irrigation network based on new mapping sections & profiles
· Investigation of surface drains based on its capacity and location
· The performance evaluation of irrigation network equipements
· Studies & recommendations for reconstruction & enhancement of irrigation nework
· Preparation of procedures and guidelines for operation and maintenance in the network
· Consideration of social issues and the role of WUAs in the management and maintenance of the irrigation and drainage network and related facilities.
· Presentation of plans for irrigation and drainage network improvement & reconstrution
· and preparation of tender documents