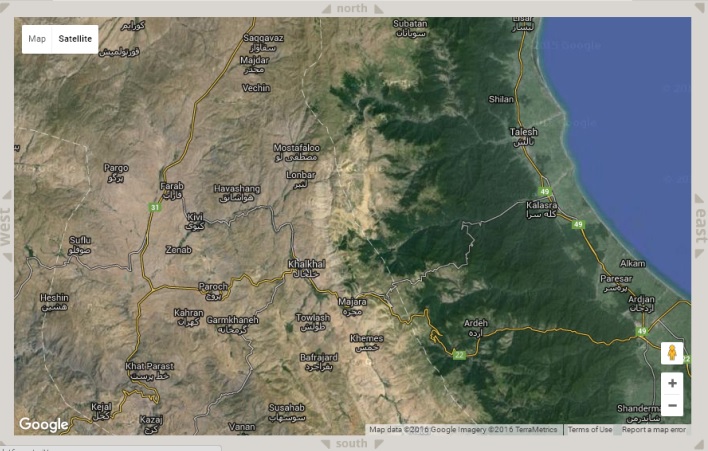 Study and Design of Primary and Secondary Irrigation and Drainage Network of the GIVI Triangle Plain
Narrative Description of Project
The Givi Triangle plain consists of several farmlands and orchards of seven villages in Ardabil province, northwest Iran. Givi Triangle plain studies were added to the greater Givi dam land reclamation project in 2009 by the Ardabil Regional Water Authority. Due to the new Givi dam irrigation plan, nearly eleven million cubic meters of irrigation water per year had become available for the Givi Triangle Plain. As for the main project, MGCE was also assigned to carry out studies and design of irrigation and drainage network for the Givi Triangle plain. The client needed to investigate potentials and constraints of their water and land resources in order to find sustainable solutions to make efficient use of the resources within the Givi Triangle plain.
The Givi Triangle Plain Irrigation and Drainage network is part of the greater Givi dam land reclamation project. The main project aims at the following goals:
• reclaiming land and water resources in the project area and making efficient use of them
• Strengthening sustainable agriculture, livestock, and relevant industries
• Employment creation and preventing mass immigration to large cities
• Increasing residents' wages, improving life standards & eliminating deprivation
Description of actual services provided by your staff within the assignment
Basic studies
MGCE soil science experts examined soil quality within some 4800 hectares of the greater Givi plain project area. Irrigation engineers acquired a coherent set of basic data required for the design of the irrigation networks, including access roads to the area, meteorological data, hydrological data, water resources and water quality, existing farming practice and crops, agricultural potentials, geological and geotechnical conditions of terrains, and potential construction material borrows. An irrigation and drainage plan was synthesized for the Givi Triangle plain based on comprehensive data and integrated analyses.
Design of the irrigation and drainage networks
A special off-take from main outlet pipeline of the Givi dam was proposed for the Givi Triangle Plain. A GRP pipe of 1000 mm diameter transmits 1400 liters of water per second from this off-take into the Plain. This main pipe becomes a 500 mm diameter pipeline as it distributes water into nine secondary pipelines on its path nine kilometers down the Givi Triangle Plain. The main pipeline together with its nine 110 mm to 600 mm diameter PE/GRP secondary pipelines constitutes a total of 31 kilometers of distributor network to seven villages within the Givi Triangle plain. The distributor network includes 17 pressure reducer chambers, several Air valves and discharge valves. Finally, secondary farm and orchard networks include 800 hectares of sprinkler systems and 1000 hectares of drip irrigation systems. Suggested cropping pattern includes wheat, barley, corn, potato, beans, alfalfa, grapes, and almond.
This study is based on several multi-disciplinary analyses including:
Feasible farm and orchard crop patterns
Net water requirement of crops
Available irrigation methods and their efficiency features
Givi dam water outlet monthly schedule
Local farm share in crop pattern
Appropriateness of farms and irrigation feasibility
Average steepness and topographical features of land
Land ownership and villages' borders
Easy maintenance of the proposed network
Technical feasibility of pipe installation
Hydraulics of flow different times through the year
Surge force alleviation
Conveyance capacities of pipes
PE and GRP pipe features
Deliverables of the project:
Feasibility studies report for the primary irrigation and drainage network
Feasibility studies report for the secondary irrigation and drainage network
Final design report for the primary irrigation and drainage network
Final design report for the secondary irrigation and drainage network
O & M Manual for the irrigation network
Construction drawings for the primary and secondary irrigation and drainage network