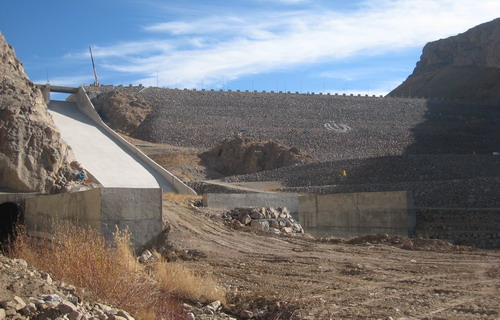 Galabar Storage Dam Project
Project Purpose / Layout
The purposes of the dam are to irrigate 8000 hectares of the farmland in Zarrin Abad plain, Haji Gheshlagh, Yangi, Jamesara and 300 hectares of farmland in downstream of the storage dam to confluence of the Ghezel Uzan River, control the flood of the Sajas River, and supply water to the downstream industries.
Geographic Location
The dam site is built on the Sajas River, 50-km southwest of city of Zanjan in Zanjan province. The dam site is located at the longitude of 48o,19' east and latitude of 36o,19' north. It is 360 km to city of Tehran.
Project History
The reconnaissance studies on the Galabar dam project and its appurtenant irrigation and drainage network began and ended in 1988 and 1992 respectively. The phase I study began in 1993 and the final studies were reported to the client in late 1997. Following the review and approval of the studies, the phase II study contract was awarded to Mahab Ghodss Consulting Engineering Company in Oct.2000. The phase II study ended in Jun.2002.
Technical Specifications of Project
Dam

Dam type

Rockfill dam with clay core

Dam height above foundation (m)

82

Dam crest length (m)

247

Dam crest width (m)

12

Dam body volume (m3)

1600 x 103

Total reservoir volume (m3)

115 x 106

Active reservoir volume (m3)

46 x 106

Mean annual inflow (m3/s)

-

Spillway

Type of spillway

Free spillway

Flood discharge capacity (m3/s)

-

Powerhouse

Powerhouse type

-

Number of units

-

Design head (m)

-

Installation capacity (MW)

-

Mean annual generation (GWH)

-

Diversion System

Type of diversion system

Tunnel

Number of diversion tunnels

2

Length of diversion system (m)

1216

Diameter of diversion tunnel (m)

4.5

Discharge capacity of diversion system (m3/s)

220

Power Tunnel

Length of power tunnel (m)

-

Diameter of power tunnel (m)

-

Water Conveyance Tunnel

Length of water supply tunnel (m)

-

Diameter of water supply tunnel (m)

-

Bottom Outlet

Discharge capacity of bottom outlet (m3/s)

72

Intakes

Discharge capacity of irrigation intake (m3/s)

5

Discharge capacity of drinking water intake (m3/s)

-

Discharge capacity of power intake (m3/s)

-

Relocation Roads & Access Roads

Length of relocation roads (km)

-