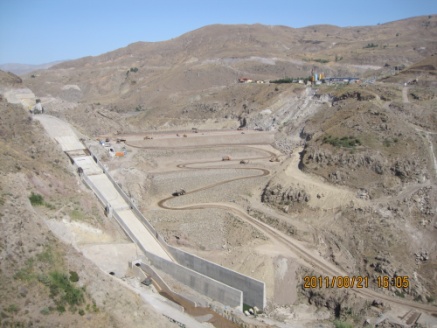 Givi Storage Dam Project
Project Purpose / Layout
The purpose of the dam is to regulate the Givi River flow, control flood, supply drinking water to city of Givi, supply agricultural water right in Givi valley, irrigate farmland and develop Sangur Char basin (7227 hectare).
Geographic Location
The dam site is situated 5-km east of city of Kowsar in Ardebil province in the northwest of Iran. The study area is located between 48o, 19´ to 48º, 14´ E longitude and 37º, 41´ to 37º,35´ N latitude and form the 603-km2 drainage basin of the Givi Chai River.
Project History
The pre-reconnaissance studies on the Givi dam project were carried out by Ashnab Consulting Engineering Company and the reconnaissance stuies were conducted by Mahab Ghodss Consulting Engineering Company in 1996. The phase II study began in 1999 and finished in 2003. The construction started in 2003.
Specific Characteristics of Project
Specific geological features and difficult watertight system.
Technical Specifications of Project
Dam

Dam type

Rockfill dam with clay core

Dam height above foundation (m)

102

Dam crest length (m)

301

Dam crest width (m)

12

Dam body volume (m3)

2500 x 103

Total reservoir volume (m3)

71 x 106

Active reservoir volume (m3)

53x 106

Mean annual inflow (m3/s)

3.3

Spillway

Type of spillway

Free spillway

Flood discharge capacity (m3/s)

1033

Powerhouse

Powerhouse type

-

Number of units

-

Design head (m)

-

Installation capacity (MW)

-

Mean annual generation (GWH)

-

Diversion System

Type of diversion system

Tunnel

Number of diversion tunnels

2

Length of diversion system (m)

1114

Diameter of diversion tunnel (m)

4.4

Discharge capacity of diversion system (m3/s)

180

Power Tunnel

Length of power tunnel (m)

-

Diameter of power tunnel (m)

-

Water Conveyance Tunnel

Length of water supply tunnel (m)

-

Diameter of water supply tunnel (m)

-

Bottom Outlet

Discharge capacity of bottom outlet (m3/s)

40

Intakes

Discharge capacity of irrigation intake (m3/s)

9

Discharge capacity of drinking water intake (m3/s)

.15

Discharge capacity of power intake (m3/s)

-

Relocation Roads & Access Roads

Length of relocation roads (km)

10.9