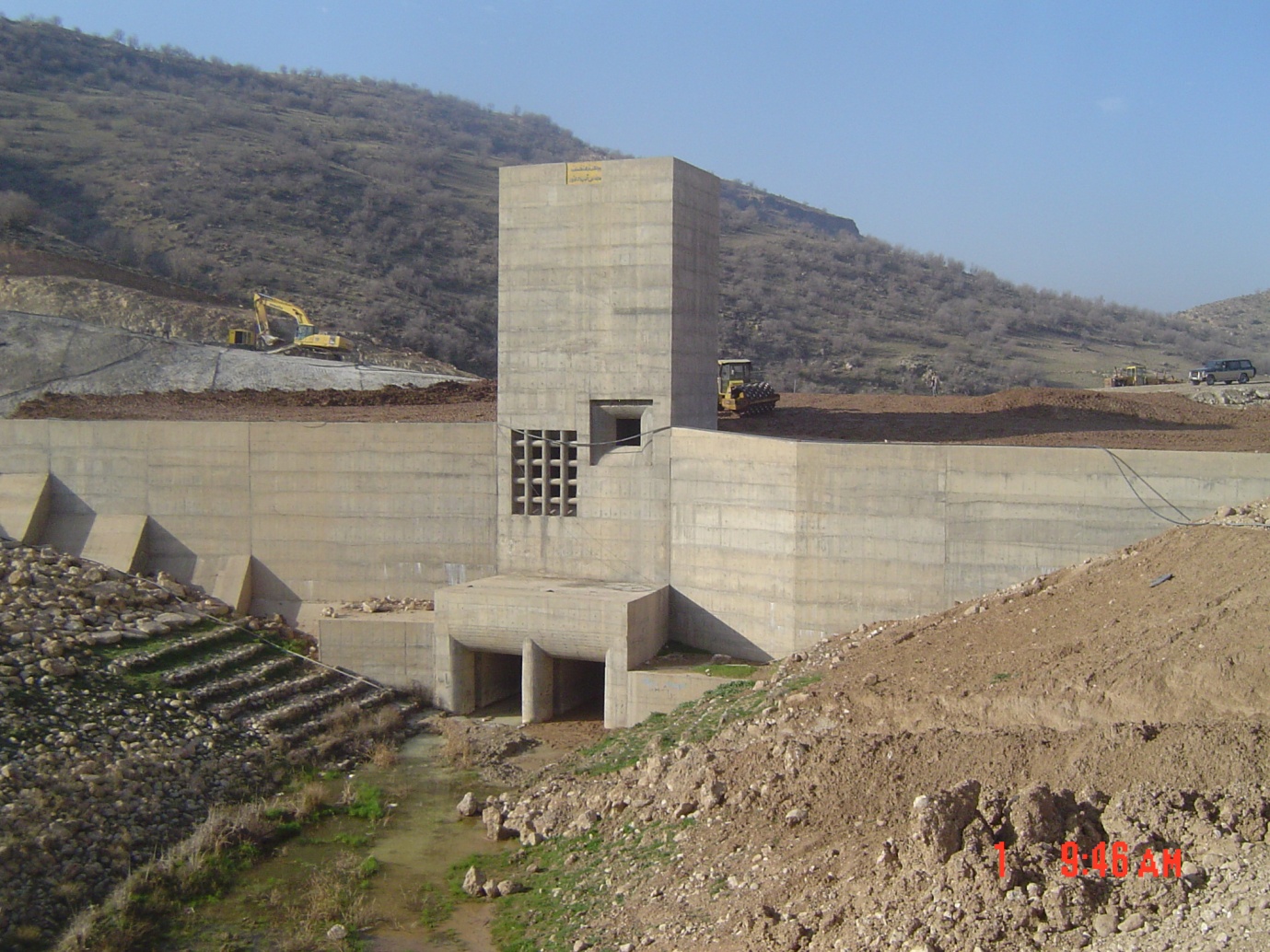 Tang Shemiran (Kangir) Storage Dam Project
Project Purpose / Layout
The purposes of the dam are to utilize the irrigated flow in order to irrigate 2000 hectares of farmland in Dasht Zarrineh plain, supply 5x106-m3 water for industrial consumption, prevent exit of boundary water, create job in the poor regions and to improve the environment.
Geographic Location
The dam site is situated near the city of Ivan in Ilam province. The access road to the dam site is 6.5 km long that branches off from the Sumar road (5 km after Zarneh).
Project History
The Diversion - culvert system was began by Water & Soil Company in 2000 and finished in 2003. At present Khatamol Anbia Company as the main contractor is constructing the Kangir storage dam project.
Specific Characteristics of Project
A sinkhole was found in the reservoir area. The dye test has shown no problem in this respect to date.
Technical Specifications of Project
Dam

Dam type

Earthfill dam with clay core

Dam height above foundation (m)

42

Dam crest length (m)

745

Dam crest width (m)

7.5

Dam body volume (m3)

1980 x 103

Total reservoir volume (m3)

19 x 106

Active reservoir volume (m3)

10 x 106

Mean annual inflow (m3/s)

50

Spillway

Type of spillway

Free ogee

Flood discharge capacity (m3/s)

1800

Powerhouse

Powerhouse type

-

Number of units

-

Design head (m)

-

Installation capacity (MW)

-

Mean annual generation (GWH)

-

Diversion System

Type of diversion system

Culvert

Number of diversion tunnels

2

Length of diversion system (m)

200

Diameter of diversion tunnel (m)

2.5

Discharge capacity of diversion system (m3/s)

37

Power Tunnel

Length of power tunnel (m)

300

Diameter of power tunnel (m)

-

Water Conveyance Tunnel

Length of water supply tunnel (m)

1.3

Diameter of water supply tunnel (m)

-

Bottom Outlet

Discharge capacity of bottom outlet (m3/s)

37

Intakes

Discharge capacity of irrigation intake (m3/s)

1.8

Discharge capacity of drinking water intake (m3/s)

-

Discharge capacity of power intake (m3/s)

-

Relocation Roads & Access Roads

Length of relocation roads (km)

-