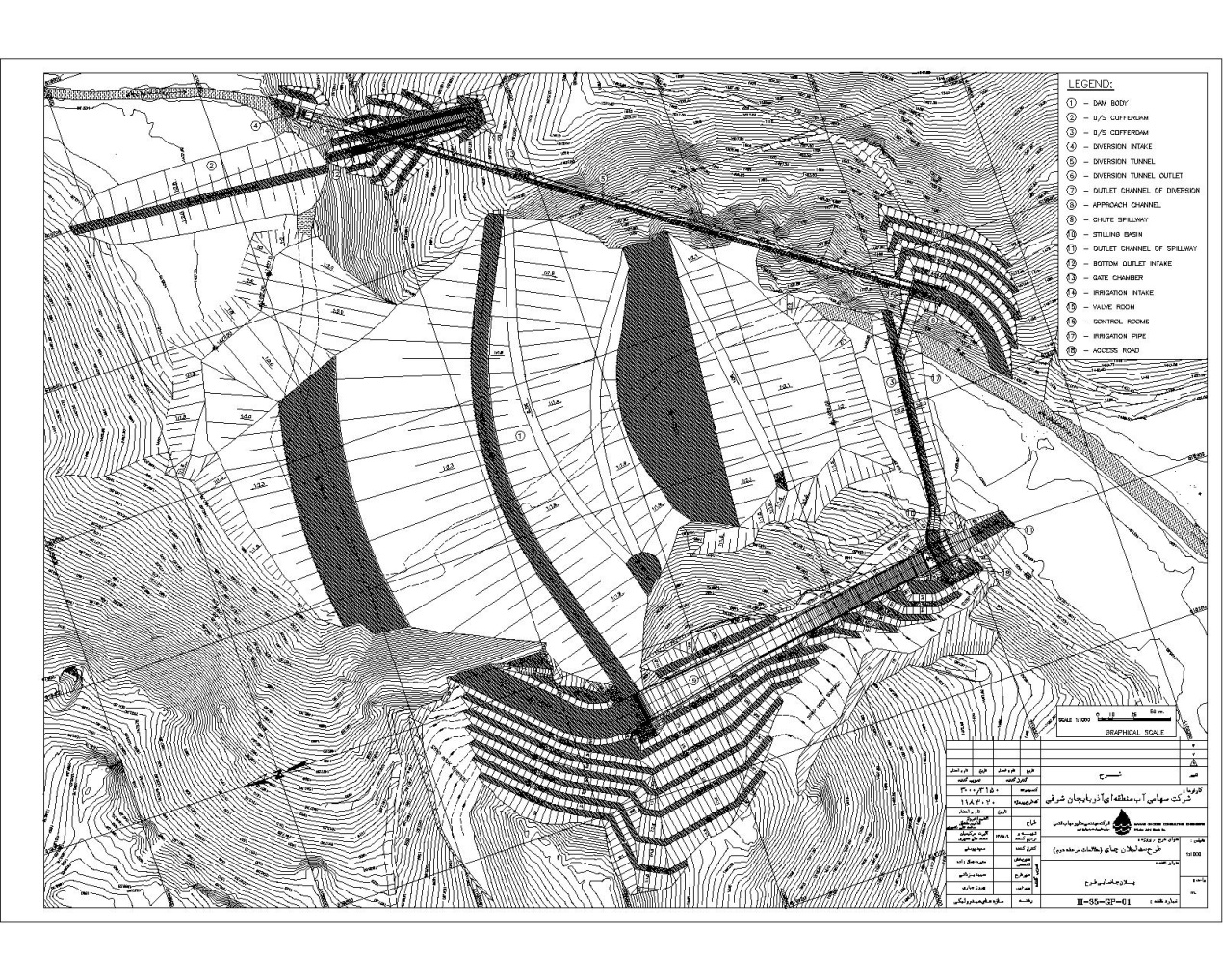 Leilan Chai Storage Dam Project
Project Purpose / Layout
The purpose of the dam is to exploit the regional water and soil resources and improve agriculture. It is an earthfill dam with clay core that regulate 30x106 m3 water per annum to irrigate 4000 hectares of farmland in Leilan Chai plain and supply water right demand for 3200 hectares of farmland.
Geographic Location
The dam site is being built on the Leilan Chai River in the southwest of East Azerbaijan province. The Leilan Chai River runs down into the Urmia Lake. The dam site is situated 23-km east of city of Malekan and 1-km upstream the village of Ghush Ghia. The dam site is at the longitude of 46o,20',40" E and the latitude of 37o,06',59" N.
Project History
The reconnaissance studies on the Leilan Chai dam project were carried out by Mahab Ghodss Consulting Engineering Company 1996 thru 1999, and the studies were approved by East Azerbaijan Regional Water Authority as client. The feasibility study began in 2001 and ended in Sep.2004.
The phase II study was conducted by Mahab Ghodss Consulting Engineering Company 2004 thru 2006. Khatamol Anbia Company was selected as the main contractor in Feb.2007 and the construction began in Jun.2007.
Technical Specifications of Project
Dam

Dam type

Earthfill dam with clay core

Dam height above riverbed (m)

63

Dam crest length (m)

364

Dam crest width (m)

12

Dam body volume (m3)

3390 x 103

Total reservoir volume (m3)

40.6 x 106

Active reservoir volume (m3)

34.4x 106

Mean annual inflow (m3/s)

56.1

Spillway

Type of spillway

Free chute spillway

Flood discharge capacity (m3/s)

184

Powerhouse

Powerhouse type

-

Number of units

-

Design head (m)

-

Installation capacity (MW)

-

Mean annual generation (GWH)

-

Diversion System

Type of diversion system

Tunnel

Number of diversion tunnels

1

Length of diversion system (m)

428

Diameter of diversion tunnel (m)

5

Discharge capacity of diversion system (m3/s)

140

Power Tunnel

Length of power tunnel (m)

-

Diameter of power tunnel (m)

-

Water Conveyance Tunnel

Length of water supply tunnel (m)

-

Diameter of water supply tunnel (m)

-

Bottom Outlet

Discharge capacity of bottom outlet (m3/s)

31.5

Intakes

Discharge capacity of irrigation intake (m3/s)

3

Discharge capacity of drinking water intake (m3/s)

-

Discharge capacity of power intake (m3/s)

-

Relocation Roads & Access Roads

Length of relocation roads (km)

-