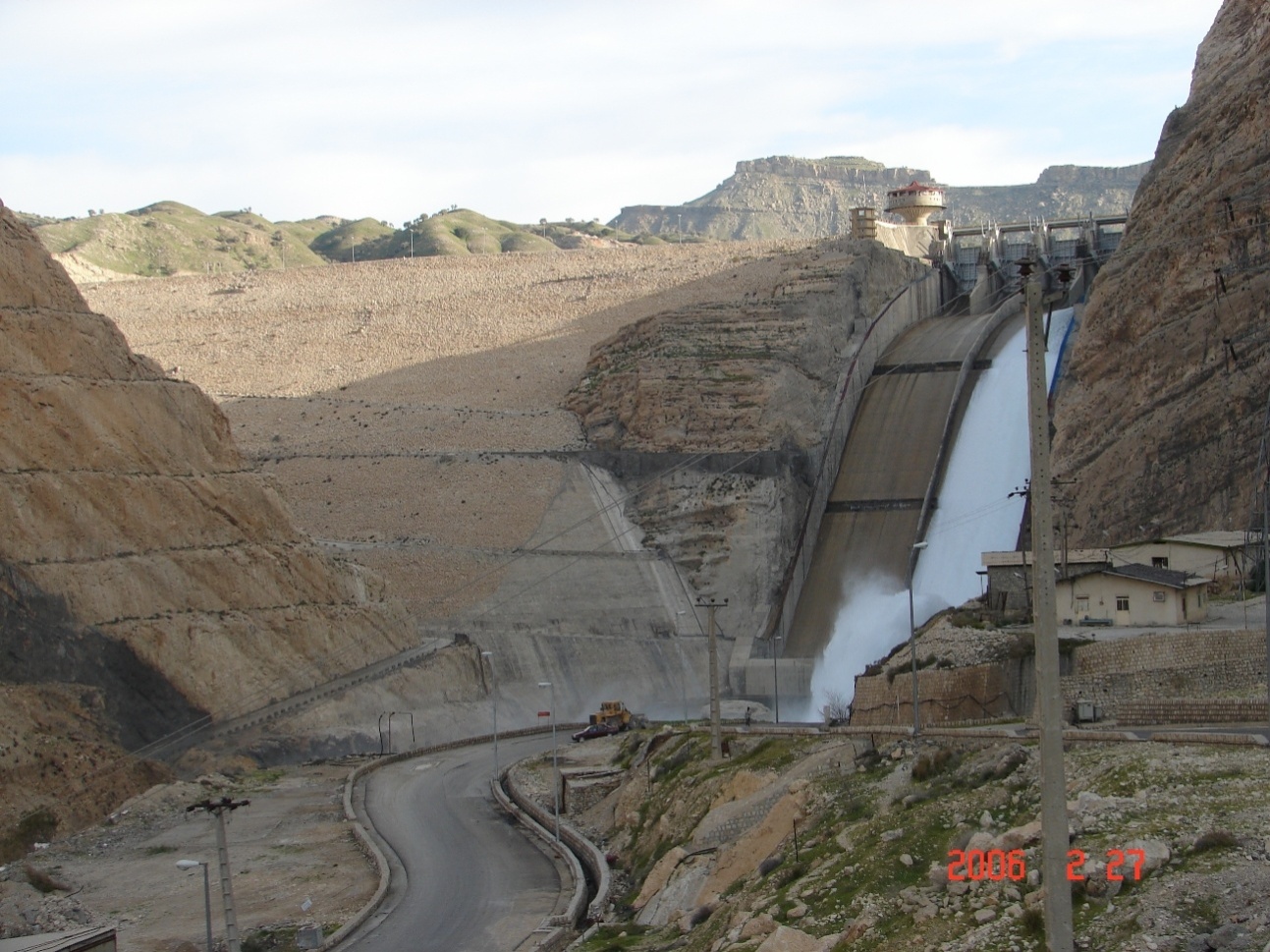 Marun Storage Dam Project
Project Purpose / Layout
The primary purpose of the dam is to collect and store the Marun River in order to irrigate the plains of Behbahan Jaiza and Khalf Abad, generate electricity and control flood. The general layout of the project consists of Marun storage dam, Aryobarzan regulation dam and 50000-ha irrigation network.
Geographic Location
The dam site is situated in the southwestern Iran, 220 km to city of Ahvaz and 18.5 km to city of Behbahan in Khuzistan province.
Project History
Harza Company studied the project area in 1970s. Mahab Ghodss Consulting Engineering Company in association with a Romanian Company conducted the phase II study in 1980s. The construction began in 1967 and finished in 2003. The construction of the powerhouse started with delay and its second unit went into operation in 2015.
Specific Characteristics of Project
The dam site is located in a gorge that has the potential for construction of a concrete dam, but the priority was given to the earthfill dam because of the regional seismicity.
Technical Specifications of Project
Dam

Dam type

Rockfill dam with clay core

Dam height above foundation (m)

170

Dam crest length (m)

345

Dam crest width (m)

15

Dam body volume (m3)

8450 x 103

Total reservoir volume (m3)

1200 x 106

Active reservoir volume (m3)

1000 x 106

Mean annual inflow (m3/s)

50

Spillway

Type of spillway

Gate chute spillway

Flood discharge capacity (m3/s)

10000

Powerhouse

Powerhouse type

Semi-underground

Number of units

2

Design head (m)

142

Installation capacity (MW)

150

Mean annual generation (GWH)

380

Diversion System

Type of diversion system

Tunnel

Number of diversion tunnels

2

Length of diversion system (m)

1190 (640 & 550)

Diameter of diversion system (m)

13 & 10.7

Discharge capacity of diversion system (m3/s)

6400

Power Tunnel

Length of power tunnel (m)

395.7

Diameter of power tunnel (m)

7 & 6

Water Conveyance Tunnel

Length of water supply tunnel (m)

-

Diameter of water supply tunnel (m)

-

Bottom Outlet

Discharge capacity of bottom outlet (m3/s)

500

Intakes

Discharge capacity of irrigation intake (m3/s)

140

Discharge capacity of drinking water intake (m3/s)

-

Discharge capacity of power intake (m3/s)

140

Relocation Roads & Access Roads