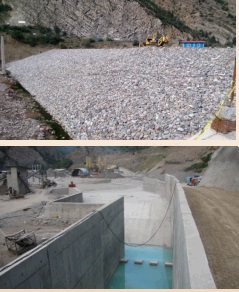 Haraz Storage Dam
Location
Haraz Storage Dam is being constructed on the River Haraz in about 20 km south of the City Amol in Mazandaran Province.
The dam site is accessible directly by Haraz Road.
History
The supplementary Phase-I Studies of Haraz Storage Dam Project were awarded to Mahab Ghodss Consulting Engineering Co. in 2006. The supplementary designs of the dam tunnels comprising the diversion system, bottom outlets, road diversion tunnel, spillway and headrace tunnel as well as the design of the dam body and powerhouse were carried out by Mahab Ghodss in 2010 and 2013 respectively. At the same time, the general and site supervision over the dam and appurtenant structures were notified to Mahab Ghodss by the client.
Objectives
Supplying drinking and industrial waters for 5 cities (115 MCM per annum)
Development of agricultural water supply related to the paddy fields of Haraz Plain (about 96000 ha.) together with Chalus Water Conveyance Canal
Collection and abstraction of over 14% of the surface runoff of the province
Generation of 170 GWh hydropower energy per annum by a 25-MW-capacity powerhouse
Specific Characteristics
A portion of Tehran-Amol Main Road was going to be covered by the dam body. This gave rise to devise a complicated design as for the layout of the dam body, hydraulic structures and the dam method statement; on a way that vehicles are now passing through the diversion tunnel and the dam construction works are being carried out without any interference with Haraz Road traffic.
Special design of the morning glory spillway making use of the diversion road based on the requirements of Transportation Dept. standards and observing the international design criteria of the morning glory
Laying on a high seismically active zone
Being located 20 km upstream of Amol that is one of most populous cities of Iran
Project Specifications
| | |
| --- | --- |
| Dam Type | Earth Fill with Clay Core |
| Total Earth Filling Volume | 10 MCM |
| Dam Crest Level | 508 masl |
| Dam Height From Bed Rock | 150 m |
| Crest Length | 388 m |
| Riverbed Level At Dam Axis | 385 masl |
| Alluvium Depth At Dam Axis | About 25 – 30 m |
| Normal Operation Level | 502 masl |
| Reservoir Total Volume | 230 MCM |
| Spillway Discharge Capacity (PMF) | 1000 m3/ sec |
| Diversion System Design Flood Discharge (50-Yr) | 184 m3/ sec |
| Bottom Outlet Capacity | 72 m3/ sec |
| Water Supply Tunnel Discharge (Irrigation & Powerhouse) | 46 m3/ sec |