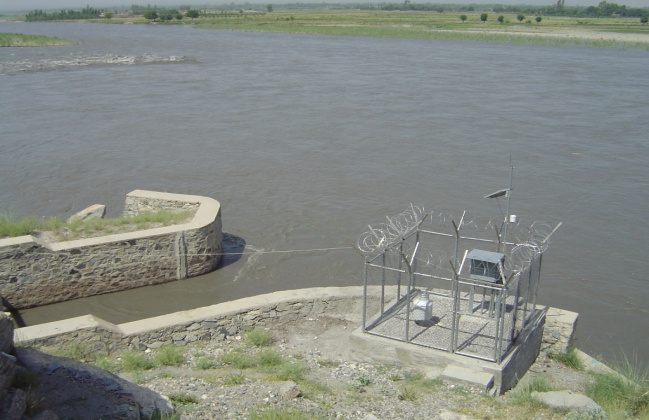 Kama Diversion Dam & Hydropower Plant Project
Project Purpose / Layout
The purpose of the dam is to irrigate 12500 hectares of farmland (irrigation improvement: 7500 ha & development: 5000 ha) in plains of Kama, Gerdab and Goshta and to generate electricity.
Geographic Location
The dam site is situated between 34o,20' - 34o,30' N latitude and 70o,30' - 70o,50' E longitude in Kama and Goshta, Nangarhar province, Afghanistan. The project area is surrounded by Pakistan border in north and east, the Kabul River in south and the Kunar River in west.
Project History
The feasibility study on irrigation of Kama plain and generation of electricity was carried out by Sanyu Consultants Inc. in 1973. Electrowatt Engineering Company conducted the rest of the feasibility study and provided the proposed plan in 1975.
Technical Specifications of Project
Dam

Dam type

Diversion dam

Dam height above foundation (m)

7.5

Spillway length (m)

380

Dam crest width (m)

-

Total concrete (m3)

200 x 103

Total reservoir volume (m3)

-

Active reservoir volume (m3)

-

Mean annual inflow (m3/s)

-

Spillway

Type of spillway

Ogee

Flood discharge capacity (m3/s)

136.5

Powerhouse

Powerhouse type

Surface powerhouse

Number of units

3

Design head (m)

41.5

Installation capacity (MW)

41.4

Turbine

Vertical, Francis

Generator

Vertical, synchronous

Mean annual generation (GWH)

297

Diversion System

Type of diversion system

-

Number of diversion tunnel

-

Length of diversion tunnel (m)

-

Diameter of diversion tunnel (m)

-

Discharge capacity of diversion system (m3/s)

-

Power Tunnel

Length of power tunnels (m)

-

Diameter of power tunnel (m)

-

Water Conveyance Tunnel

Total length of water conveyance system (m)

16730

Number of water conveyance system

1

Length of water conveyance tunnels (m)

1115, 270, 335

Diameter of water conveyance tunnels (m)

3.6, 8, 7.8

Bottom Outlet

Discharge capacity of bottom outlet (m3/s)

-

Intakes

Discharge capacity of irrigation intake (m3/s)

-

Discharge capaci