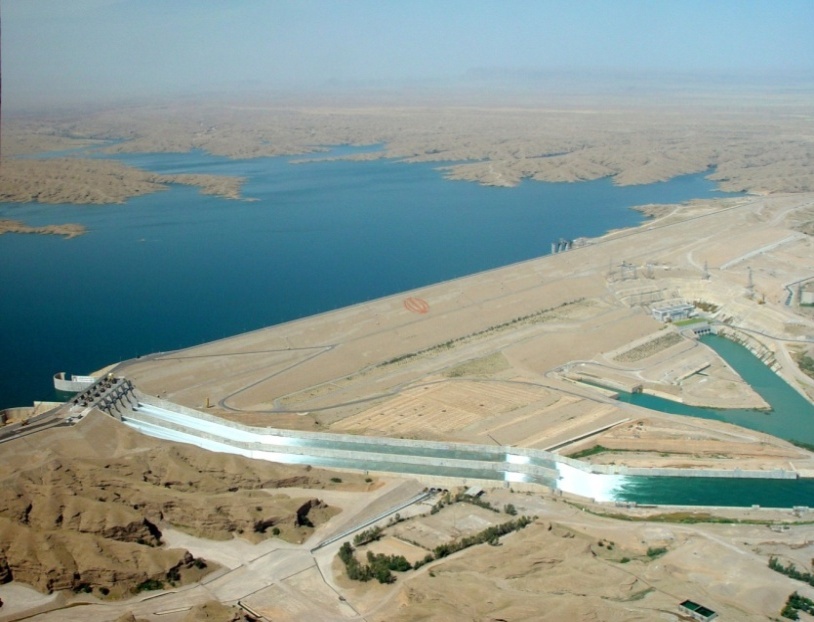 Karkheh Dam & HEPP
Location
Karkheh Dam & HEPP Project was constructed in the southwest of Iran on the River Karkheh in 21 km northeast of the city of Andimeshk located in Khuzestan Province. It is located 48o 8.7' east of longitude and 32o 6.29' north of latitude.
The River Karkheh has its source from the mid parts and southwest of Zagros Mountain Range. It is flowing 900 km southward up to the wetland of Hoor-Ol-Azim located in the borderline of Iran and Iraq. The River Karkheh stands in the 3rd place after the Rivers Karun and Dez from the discharge point of view.
History
The preliminary studies of Karkheh Dam & HEPP were carried out by Iranian and foreign engineering companies within the years 1956 to 1979. After Revolution, the supplementary studies of Karkheh Dam & HEPP were awarded to Mahab Ghodss Consulting Engineering Co. in 1987. Afterwards, the new dam axes were suggested to Mahab Ghodss Consulting Engineering Co. and a Chinese company in the name of Kanic.
The dam construction activities were commenced in 1991 and the last powerhouse unit was brought into operation in 2003.
Objectives
Karkheh Dam & HEPP supplies irrigation water for over 345000 ha area of Khuzistan and Ilam provinces,
Generates 934 GWh of hydroelectric energy per annum,
Controls destructive floods, and
Reduces hydraulic gradient.
Specific Characteristics
The largest artificial lake in Iran with an area of 160 km2 & storage capacity of 1.3 of the dam reservoirs of the country.
Tourist attraction and fish breeding.
Project Specifications
| | |
| --- | --- |
| Dam Type | Earthfill Dam With Clay Core |
| Dam height above foundation (m) | 127 |
| Dam Crest Length (M) | 3030 |
| Dam Crest Width (M) | 12 |
| Dam Body Volume (M3) | 32500 X 103 |
| Total Reservoir Volume (M3) | 5300 X 106 |
| Type Of Spillway | Ogee Spillway (Gate Chute Spillway) |
| Flood Discharge Capacity (M3/S) | 18260 |
| Powerhouse Type | Surface |
| Number Of Units | 3 |
| Installation Capacity (MW) | 400 |
| Mean Annual Generation (GWH) | 934 |