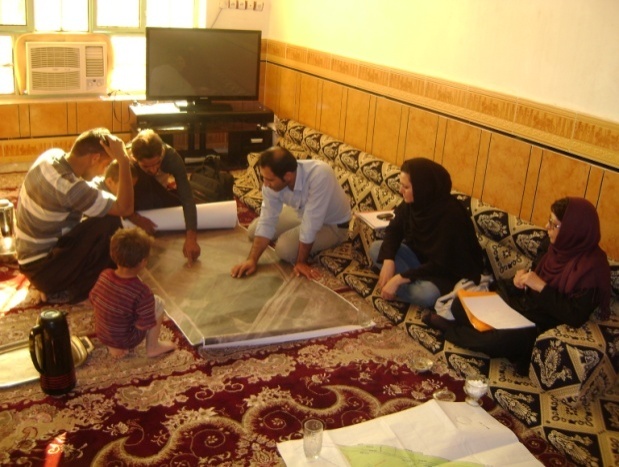 Social Facilitating in the process of Irrigation and drainage network design, construction and reconstruction of units 2 and 3 in Arayez plain
Description of Project
Project area is located southwest of Iran in Khuzestan Province including 6275 ha of irrigation network in the units 2 and 3 of Arayez plain. The net area of units 2 and 3 is 3285 and 2990 ha. The project includes 6 villages with total population of about 1649 people. The aim of this project is study, design and construction of irrigation and drainage, sub-surface and underground networks and groundwater, equipping, modernization and operation of agricultural resources and also creating WUA to achieve maximum efficiency and empowerment of stakeholders.
The main social issues in this project
The investigation aims to improve the overall impacts on the agricultural development in this area and prepare a comprehensive action plan.
Actual Services Provided by MGCE
MGCE performed an extensive study, fieldwork, surveys, interviews and focus groups and proposed the required action plan with close interaction with the Client and local facilitators, local authorities and farmers. The performed tasks are summarized as follows:
Social and demographic studies and public participation:
Examining the demographic characteristics and trends in communities, identifying all stakeholders and collection of their views about the project, examining the previous and current participatory potential of water users, identifying the social supporting forces and obstacle, playing the facilitating role to reach an accord and common understanding among stakeholders and gaining public acceptance promoting shared responsibility, convergence and divergence in the study area, identifying local influential people and local confidantes
Studying the land/water use regime and important inputs or resources for agricultural activities:
Identifying land/water user regime, determining landownership and territorial changes, studying the trends and pros and cons of the current agricultural regime in the area and proposing suitable improvement measures for the system under the present and future project condition
Evaluating the most important economic features in the current situation, livelihoods dependency of rural households to water and soil resources, effects if irrigation networks on the local economy
Participatory evaluation of the technical features of the network:
Identifying landowners in the network, holding consultative workshops with stakeholders, scrutinizing the farms according to social considerations
Studying of establishment of Water Users Associations:
Identify the beneficiaries according to the arrangement of sub-networks using integrated cadastre map and network features, determining the number and scope of Water User Associations, proposing approaches for transferring management operation and maintenance of irrigation systems to water user associations
Studying the establishment and empowering the Water Users Associations:
Identifying the problems and challenges in management and maintenance of lateral irrigation-drainage network system, designing water users associations based on technical, socio-economical and cultural conditions, proposal of suitable and practical methods for scheduled and timely transfer of irrigation management to water user associations , proposing suitable empowerment and capacity building methods for transferring the managerial responsibilities to water users
Social Facilitating and land consolidation
Establishment of social facilitator and equipment of social facilitating office, informing and awareness of farmers through consultative workshops about requirements of the implementation and operation of irrigation systems.