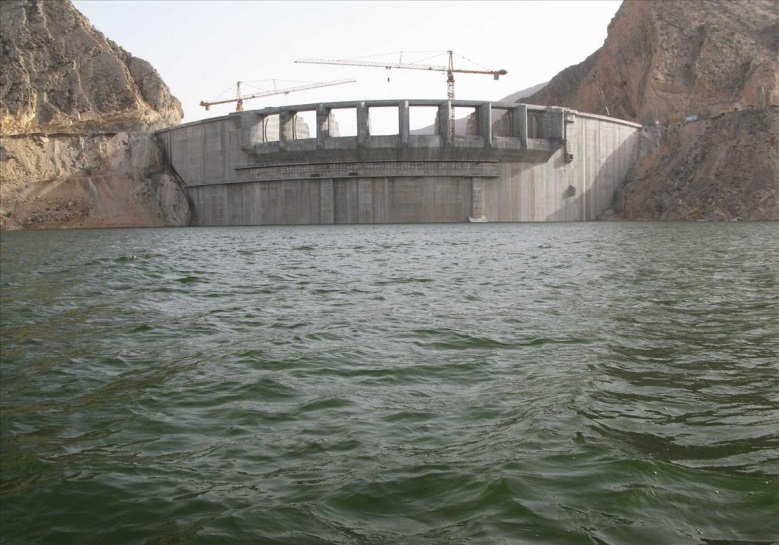 Salman Farsi Storage Dam
Location
Salman Farsi Storage Dam is located in Karzin Canyon of Fars Province and southwest of Shiraz on the River Ghareh Aghaj which has its source from Zagros Mountain Range. The distance between the dam project and the city Shiraz is 200 km.
History
The feasibility studies of Salman Farsi Storage Dam were commenced by Mahab Ghodss Consulting Engineering Co. in 1984 and ended in 1987. The detail design studies of the project started in 1991. Following the preparation of the drawings, the construction activities, namely diversion tunnel, cofferdam, the excavation of abutments, grout curtain and dam body were started.
Objectives
The main objectives of Salman Farsi Storage Dam are to supply drinking water for the cities existing around the project (about 60 MCM per annum), supply downstream irrigation water for about 32000 ha of farmlands existing in the plains of Ghir, Karzin, Ali Abad, Afzar & Laghar, flood control, job creation, etc.
Specific Characteristics
Salman Farsi Storage Dam is one of the 5 large dams of Fars Province which regulates annually 150, 10 and 60 MCM of water for agricultural, industrial and drinking purposes respectively.
Project Specifications
| | |
| --- | --- |
| Dam Type | Concrete arch-gravity |
| Dam Height Above Foundation | 125 m |
| Dam Crest Length | 345 m |
| Dam Crest Width | 7 m |
| Dam Body Volume | 830,000 m3 |
| Total Reservoir Volume | 1400 MCM |
| Reservoir Useful Volume | 1208 MCM |
| Diversion/ Culvert System Type | Tunnel |
| Number of Diversion Tunnels | 1 |
| Diversion System Length | 285 m |
| Diversion Tunnel Diameter | 12 m |