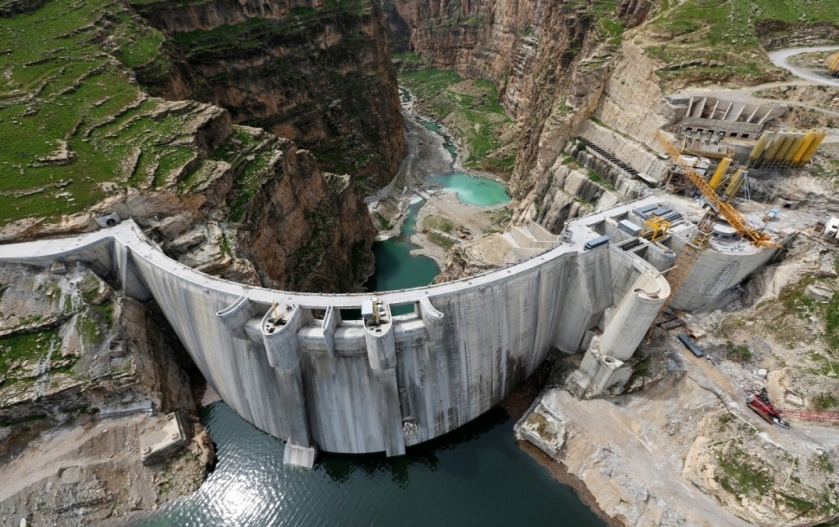 Seymareh Dam & HEPP
Location
Seymareh Dam & HEPP is located in Ilam Province (Southwest of Iran) in about 40 km of the city of Darreh Shahr.
History
The reconnaissance studies the River Karkheh Tributaries were performed by Mahab Ghodss Consulting Engineering Co. and Electroconsult Co. in 1990. The preliminary studies of Seymareh Dam & HEPP were finished within 1993-1996. Detail design studies of this project were carried out by Mahab Ghodss and approved the client (IWPC) by 2000. The construction supervision was also awarded to Mahab Ghodss. The dam concrete works were started in 2006 and the dam impoundment was commenced in 2010. The powerhouse units commissioning tests were begun in 2015.
Objectives
The main objectives of Seymareh Dam & HEPP are to supply water for downstream irrigation consumption, generate hydropower, control river inundations, increase the regulation capacity of the downstream dams, fish breeding, tourism, etc.
Specific Characteristics
Dam concreting in about 50 m below the riverbed
Excavation in alluvium and pre-grouting through the rock abutments in the course of construction to mitigate seepage in the dam foundation
Making use of Top Belt and Rotec Conveyor belts for the dam concreting due to the poor quality of the left abutment rocks instead of cable crane
Using Pozzolan cement in the dam body to withstand against alkali reaction
Project Specifications
| | |
| --- | --- |
| Dam Type | Concrete Arch Dam |
| Dam Height Above Foundation | 180 m |
| Dam Crest Length | 202 m |
| Dam Crest Width | 6 m |
| Dam Body Volume | 1033000 m3 |
| Total Reservoir Volume | 2845 MCM |
| Mean Annual Inflow | 84 m3/ sec. |
| Type of Spillway | Gated Side Spillway and free spillway on dam body |
| Flood Discharge Capacity | 8370 m3/ sec. |
| Powerhouse Type | Surface |
| Number of units | 3 |
| Design Head | 114 m |
| Installed Capacity | 480 MW |
| Mean Annual Power Generation | 684 GWh |