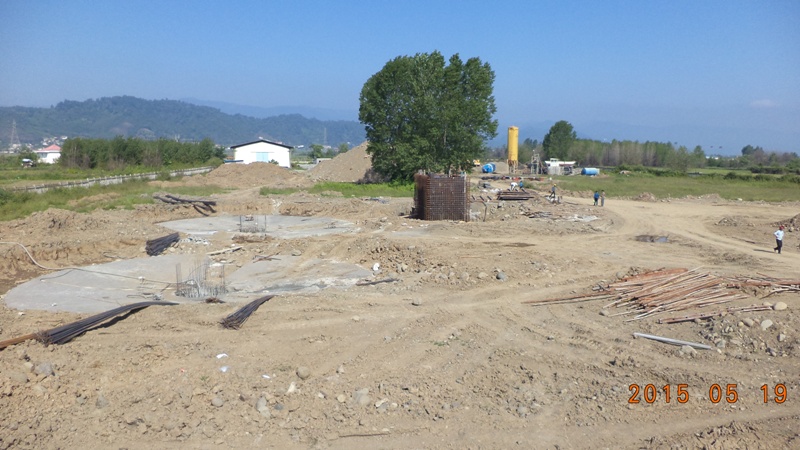 Astara wastewater treatment
Design landscape
Development of cities followed by an increase in water consumption and wastewater production, make it necessary to implement wastewater collection and treatment system in order to control contamination, possibility of wastewater reuse and therefore, reducing pressure on water supply resources. In addition to help we reach to the mentioned objectives, establishing a wastewater treatment plant for Astara city can lead to income through selling treated wastewater and the produced sludge.
After passing tender process and evaluating contractors, the contract to establish one module of Astara city wastewater treatment plant using EPG method was finally concluded by Sabir force participation-Mahab Qods.
The first module of the mentioned treatment plant will be designed and implemented using continuous aeration activated sludge method for a population equal to 30000 persons and with average flow rate of 6300 m3/d.
General outlines of services description
Preparing maps and treatment plant executive documents (process, mechanics, power, control, architecture, structure, facilities)
Design main components
Treatment system through activated sludge including entry basin, Parshall flume, aeration, sedimentation, disinfection, thickener, and dryer
Design objectives
Design details of Astara wastewater treatment plant
Design technical specifications
Total capacity of treatment plant: 32 m3/s
Modules number: 2 modules
Population covered by total design: 60000 persons
The number of implemented modules at this stage: 1 module
Covered population; 30000 persons
Wastewater treatment method: activated sludge- Modified Ludzack-Ettinger Process (MLE)
Treatment feature: Nitrogen removal
Main units: Screening, grit-chamber, aeration, secondary sedimentation, disinfection (UV), sludge thickener, mechanical dewatering